Serbian journalists are under attack. Does the international community care?
Supported by the U.S. and EU, praised at Davos: President Aleksandar Vucic is on a roll. No one seems to want to contemplate the appalling assaults on press freedoms.
February 1, 2019 | The New Republic
Aleksandar Vucic is a busy president. The Serbian leader claims to work at least 15 hours a day, from early in the morning until at least 10:30 in the evening—"as long as I can endure." And from his Russian lessons at 6:30 am—language skills he exhibited during the sumptuous January reception for Russian President Vladimir Putin in Belgrade—to almost daily press conferences, Vucic is in the press all day, every day.
The part many outside observers seem to miss, as evidenced by Vucic's invitation to a panel on media freedoms at the World Economic Forum in Davos, Switzerland last week, is that ever since Vucic's ascent to power in 2012, the freedom of that press has been under attack.
Shock spread quickly amongst journalists and political observers after the announcement that Vucic would be part of the Davos panel titled "Media Freedoms in Crisis," alongside Washington Post executive editor Marty Baron and hosted by Reuters editor-in-chief Stephen J. Adler. "Until the very last moment, I thought it wouldn't happen," journalist and Serbian media expert Tamara Skrozza told me. "I thought someone, somewhere would understand that this can't happen."
During the panel, Vucic shared his concern about press freedom in Serbia, but claimed he was working to solve such problems. "He definitely should not have been allowed to advertise his alleged successes, spread falsehoods and purport that he is something other than what we know him to be. It's scandalous," said Skrozza. Two of the leading journalist associations in the country condemned his participation in the panel, stating that Vucic had no "moral right to share recommendations on the media in the country."
The Davos event only reinforced the feeling among Serbian journalists that their struggle to highlight abuses in the country are being ignored internationally. News about journalists being targeted by politicians, anywhere in the world, have a distressingly familiar ring these days. With the Trump White House recalibrating American expectations for openness, and usual suspects like Putin's Russia and Saudi Arabia dropping in global press freedom rankings faster than most watchdogs can churn them out, smaller and consistently unstable countries like Serbia barely manage to register. But Serbian journalists aren't alone in seeing a problem: Even with little acknowledgment from the international community, the country dropped 10 spots in Reporters Without Borders' annual ranking last year.
The increased prominence of media intimidation globally, as well as the relative disinterest in the Balkans, compared to the clear and countable abuses such as the jailing of journalists by Turkey's strongman Recep Tayyip Erdogan, have made it easier for leaders like Vucic to quietly quash criticism without attracting too much attention. Unlike Turkey, Saudi Arabia and Russia, however, Serbia is currently in the process of joining the European Union. Membership includes an accession process of aligning a country with the EU's political and human rights principles, press freedoms included. But that aspect of Vucic's governance has often been ignored, in return for his complaisance in another issue: the independence of Serbia's former southern province, Kosovo, a hot-button issue since the disintegration of Yugoslavia and NATO bombing in 1999.
Vucic's first role in government was suppressing dissent as Minister of Information during the Kosovo War—a protege of the ultranationalist Serbian Radical Party's leader, Vojislav Seselj, who was later convicted of war crimes by the International Criminal Tribunal for the former Yugoslavia. Since then, Vucic has denounced his earlier actions. He and future president Tomislav Nikolic formed the Serbian Progressive Party (SNS), a conservative but pro-European party, in 2008, and won the next elections, representing a compromise for those who wanted the economic and political benefits of EU accession but also valued Vucic's and Nikolic's nationalist credentials. Vucic himself ascended to the cabinet in 2012, then to the post of prime minister in 2014, winning the presidency in the April 2017.
But the media has long been a key component of Vucic's consolidation of power, his critics say. "From the very beginning, Vucic publicly complained about the lack of support from the elites in the country, including political analysts and journalists from respectable papers," said Jovana Gligorijevic, a journalist and editor at the influential weekly Vreme. "He still doesn't have that support. So he decided to construct it artificially by forming his own parallel structures of media outlets and analysts."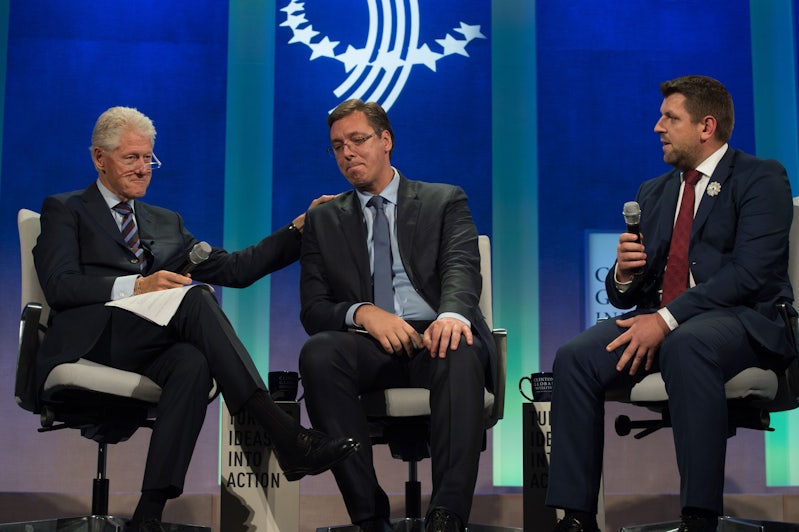 Former President Bill Clinton and then-Prime Minister Aleksander Vucic (center) at a session of the Clinton Global Initiative in 2016. (Bryan R. Smith/AFP/Getty Images)
As SNS grew, so did Vucic's incremental accumulation of loyal outlets. Compliant editors and journalists quickly replaced critical voices; ad revenue to critical outlets from companies that either have partial government ownership or are close to the government was cut off; and outlets deemed unfavorable were given less and less access. The public broadcaster, the Radio Television of Serbia, quickly fell into line, but so did former bastions of critical thought like the now defunct B92, a critical radio and later TV channel that used to be synonymous with brave journalism during the Yugoslav wars in the 90s.
Positive coverage kept Vucic from appearing weak or subservient to the EU—a liability in Serbian politics. Anytime a significant compromise was made in the ongoing political dialogue with Kosovo, or a particularly painful reform needed to be instituted as part of Serbia's EU accession process, tabloids featured stories about how Vucic had stood up to the representatives of Kosovo's Albanian majority, trying to contort it into a victory. Those pointing out deficiencies in this logic—critical outlets like the daily Danas, weeklies Vreme and NIN, as well TV channels like N1—would either be shouted down by Vucic personally during press conferences, or be torn apart for days by tabloids and on social media.
In the past few months, however, press intimidation and government-friendly media consolidation has escalated. On November 23, leftist politician Borko Stefanovic was viciously attacked by men dressed in black. The event launched weeks of protests in Belgrade that quickly outgrew their initial impetus, tens of thousands of disgruntled citizens joining in a general expression of discontent. As the protests grew, so did the pressure on the media.
Ivan Ivanovic, one of Serbia's most well-known TV personalities and until recently the host of a popular weekly talk show on the Prva channel, was one of the first to be targeted. After tweeting his criticism of a Vucic-loyal outlet for questionable coverage both dismissing and demonizing the protesters, Ivanovic found himself the center of attention.
Simultaneously, Ivanovic's outlet was being taken over. The Prva television network, with national reach, had made Ivanovic one of the few individuals in Serbia with continuous access to homes across the country. Channels like N1, considered to be one of the most independent, are only available on cable and reach significantly fewer viewers. Around the time of the first protest, news broke that both Prva and 02, another national broadcaster, were being bought by Kopernikus, a company with close ties to SNS and a staunch supporter of their policies. Ivanovic chose not to continue as the host of "Tonight with Ivan Ivanovic." His last, two-hour new-year-themed program scheduled to air on December 31st was cancelled overnight.
Milan Jovanovic, a small-town investigative journalist from Grocka, suffered a more blatant attack. On December 12, a Molotov cocktail set his house on fire. "My wife was awoken by our cat, who wanted to get outside, and she heard the shattering of glass against our garage and saw that it had been set on fire," Jovanovic said. The flames quickly enveloped the entire house. But as they tried to leave, attackers in a car on the street fired at the front door. They managed to make it out safely.
Jovanovic is a retired policeman who decided to go into journalism to help out his friend, editor Zeljko Martovic of the independent news site Zig Info: "I was good at procuring documents," he said. His main target was the mayor of Grocka, Dragoljub Simonovic, who Jovanovic alleges was involved in corrupt gas distribution contracts and other public tenders managed by the local SNS branch. Days after Jovanovic and his wife moved to an apartment in Belgrade after their house was destroyed, someone tried to break into their new home—this time while both of them were awake. It's "become common for us now," Jovanovic told me. The unknown individual fled.
Vucic downplayed the attack on Jovanovic at Davos, saying people shouldn't rush to judgement, and that the attack might have been "just another break in." Jovanovic saw the tepid statement as a green light to all those who want to attack journalists. "It's like he's drawing a bull's eye on their foreheads," he said.
Around the same time Jovanovic's apartment was broken into, Dasko Milinovic, a radio journalist from the northern Serbian city of Novi Sad, and part of a popular online radio duo, was called into the police for a tweet he had posted a couple of days ago on his parody account on Twitter. The satirical tweeter takes on the persona of a pro-Western nationalist, Zapad Todorovic—Zapad means "West" in Serbian—in many ways mirroring Vucic's own transformation, and mimics the rhetoric Vucic uses in his public addresses and statements. Pro-government trolls are common in the Serbian Twittersphere. "My goal with Zapad was to make fun of religious conservatives, the far right, historical revisionists, and they started writing back," said Milinovic, who consciously uses the language of Serbian nationalists, Colbert-style, to mock them and their policies. In a tweet on December 19th, Milinovic lampooned SNS politician Vladimir Djukanovic for supporting the activities of the Serbian neo-Nazi group "Srbska Akcija," which had spray-painted the walls of leftist politician Marinika Tepic's house. "Will the Nazi swine complain if we talk to him the way he talks to others? You fascist boar, you'll roast on the spit." Djukanovic reported the tweet to the police, saying Milinovic—despite posting from a clear parody account—had threatened him.
After willingly going to the police station, Milinovic was arrested and held overnight for "threatening the safety of a political representative"—something Milinovic found absurd. The SNS government, he told me, "is prepared to wage a war against even the most marginal and insignificant people in Serbian society, as long as they have a small slice of public attention or following."
The day after the Davos panel, the EU's enlargement commissioner Johannes Hahn posted a photograph with Vucic on Twitter, calling 2018 "successful" year for the Western Balkans. Hahn has argued in the past that continuing the EU accession process is the best antidote to any lingering authoritarian ailments in the region. He has also provoked controversy in the past by echoing rhetoric often used by Vucic and his supporters—calling for proof of concerted efforts by the government to stifle the press.
After the past month, such calls feel offensive to some Serbian journalists. Amidst the attack on Jovanovic, the cancelling of Ivanovic's show, and Milinovic's arrest, a memo to staff in the Air Serbia lounge in Belgrade's Nikola Tesla airport leaked in late December, urging vigilance about the type of media available in the waiting area for the government-owned airline. "Pay special attention to NIN, Vreme and Nedeljnik and newspapers of similar content. They should not be exhibited," the memo read.
Una Hajdari is a reporter focused on the Balkans. She is a fellow at the International Women's Media Foundation and MIT Center for International Studies.